After some debate and studying of ridiculous hunting maps we determined that it was safe to hike on the north shore this weekend. That had been the original plan and my mind was pretty set on it so all that was left to decide was how cooperative the weather would be... not that it would stop us, but it sure had the power to decide how much fun the trip would be. I get tired of browns and greys this time of year so was pulling for enough snow to make things beautiful. As the weekend approached things were looking like I was going to get what I wanted!
2pm Thanksgiving: Arrive in Red Wing and spend around 5 hours with family.
9pm Thanksgiving: Through the twin cities and we hit the snow. Roads are terrible. A police cruiser literally spins past us into the ditch. It takes us an extra 90 minutes to get to Duluth and there are a total of 18 cars passed in the ditch.
Midnight: Snocross! Entire parking lot of hotel full of large trucks, info posted all over lobby for snocross racers. Would later hear that there were 30,000 spectators???
10:30am Friday: Finally to Lutsen! At the Mountain Inn to drop off our bags and bikes. The front desk is closed and won't open until 3. Luckily got an employee on the phone and they opened up the office area for the gear.
11:45 am: Reluctantly buy a MN state parks pass in order to be able to leave car overnight in an entirely empty and unstaffed Temperance River State Park.
Temperance River State Park- things look perfect!




Almost hard to believe the conditions were so easily passable and just also awesome
Another of trail
Wind? there was a long section with trees like this
Carlton Peak- really amazing area
Heading down from Carlton Peak
2pm: Crap, the sun is going down! Seriously, it's going to be dark at 4. Total mileage back to the Mountain Inn is around 19 miles and we've only covered 5. Time to put down some effort for a while.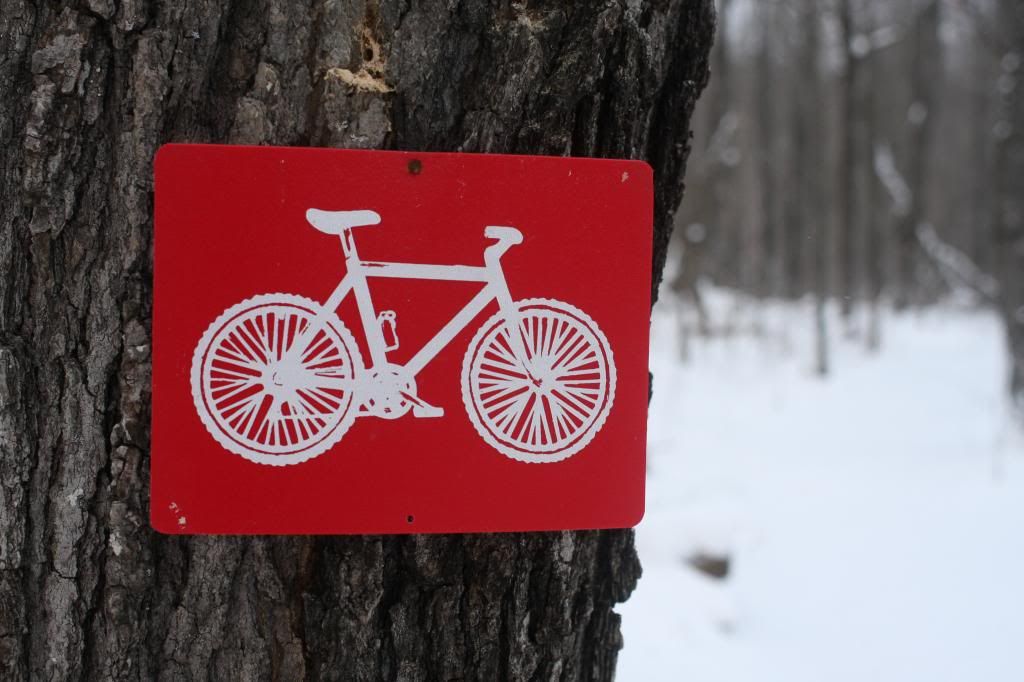 Not something I was expecting to see in the middle of the woods! Thought about coming back with fatbikes later, but no time. Also, what an awesome sign!
4pm: Stop and cook Easy Mac at one of the many backpacking campsites along the route.
5pm: It's gotten COLD and we are bundled up after sitting at dinner but throw the headlamps on and get going. Map shows 2.4 more miles to a lakeside campsite that we hope to make. Camera freezes, no more pictures until Saturday.
8:30pm: Bedtime? No idea on the temperature but I'm warm enough and happy.
10:45: Colder than hell and my hip is asleep. Things suck.
11:00pm-9am: I realize my borrowed sleeping pad has completely deflated... It's a lot warmer again after I blow it up. This cycle will repeat until 4am or so when I realize that my tent-partner (who has exactly 1 eye exposed in her Mummy bag and is clearly warm) has an 'extra' jacket. I stuff it into my bag under my hip and figure that it will pad things enough that I won't wake up as soon as the pad loses air. I wind up sleeping until 9am!
Morning!
10:30am Saturday: Back on the trail. We had noticed the snow was getting deeper and deeper in the dark the night before and that was really confirmed by day light. There are now drifts in places up near my knees. Snowshoes would almost be beneficial.
11:30: The sun is starting to heat things and the miles are flying by. Beautiful trail!
Nearing Oberg Mt. Trailhead- one of the few areas where we saw other tracks




Backside view of Oberg Mt.
We filtered water from this creek
Another of creek
Beginning of climb to Moose Mountain
2:30: Lunch in the new Moose Mountain GS start
View from Lunch- tons of snow being made on the mountain this weekend
yup
Walking down Moose Mountain- almost done!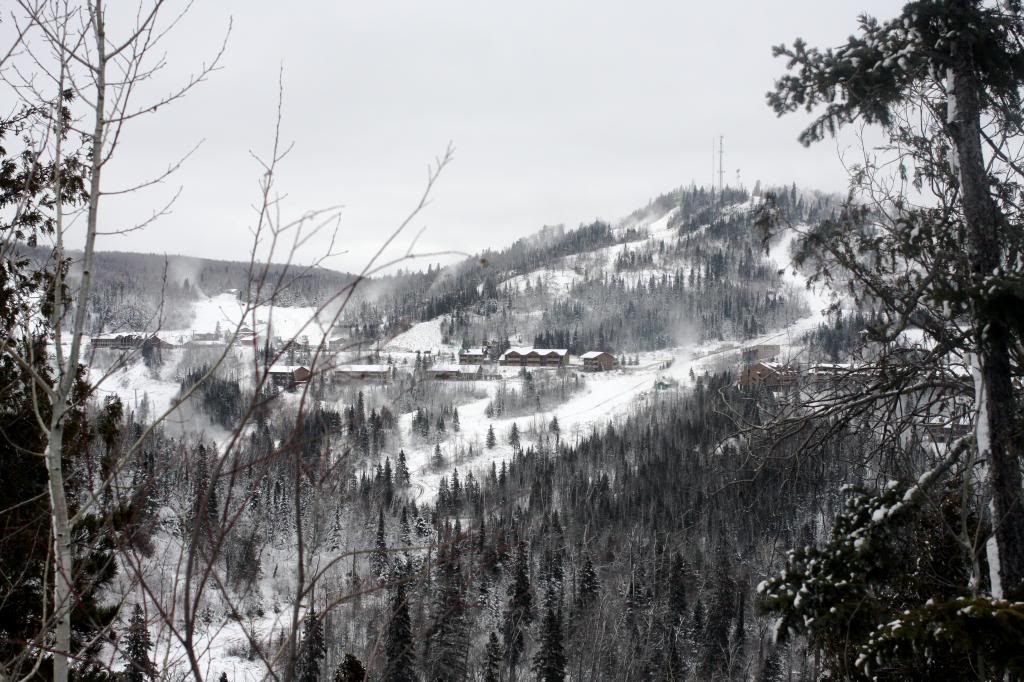 Lutsen!
3:30pm: At the Mountain Inn with plenty of daylight. Feels great to be in a hotel but definitely looking forward to riding the bikes too. In the meantime it will be dinner and drinks at Papa Charlie's.
11:45: Back at Temperance River to the car. Very enjoyable ride.
1:00pm: in Grand Marais to check out the art gallery and lunch at the Gun Flint Tavern.